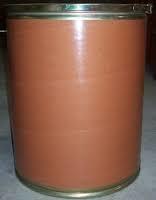 Butylate
Product Code : 08
Price And Quantity
Minimum Order Quantity

:

25
Unit of Measure

:

kg
Product Specifications
Classification

:

other, Biological Pesticide, Rodenticide, Insecticide
Product Name

:

Butylate
State

:

Physical
EINECS No

:

212-740-3
Place of Origin

:

China
Density

:

‎1.0587 g/cm3 at 20 °C Gram per cubic meter (g/m3)
Molecular Formula

:

C11H23NOS
Ph Level

:

4.8 at. 20°C,
Melting Point

:

‎48 to 55 °C
Grade

:

reagent grade, ≥98%
Color

:

yellow to amber
Source

:

Extension Toxicology Network
Appearance

:

‎waxy solid
CAS No

:

865-48-5
Purity(%)

:

82–89%
Product Description
Butylate is classified in the thiocarbamates class of chemicals, which is widely used in corn crops to prevent the growth of millet grass, nut grass, and other broadleaf unwanted plants. This herbicide is applied in the soil before the planting of corn seed, often with some other herbicides. It acts on the unwanted plant seeds that are in germination stage to control their growth. Butylate is known for its property to quickly break down in the soil, which eliminates the risk of occurring any adverse reaction if some other crops are planted later in the same field.
Features:
Can also be absorbed by leaves


Made by reaction of di-isobutylamine with phosgene and then with ethanethiol


Effective performance